We are happy to announce that we have just released the new version of Bridge Live and Live Transcoder 1.13.
Multichannel Synchronous Transport Streaming
The most distinctive feature brought by version 1.13 is stream synchronization. It enables live stream directors or producers to work with multiple feeds that are precisely synchronized together and in real-time, so the workflow is flawless. We are incredibly proud of this aspect. It enables you to work professionally, yet it is hard to find speaking of similar products. However, it is almost a necessity in quality video production.
NDI Ready
Live Transcoder is now fully NDI-ready. Network Device Interface (NDI) is a high-performance standard that allows anyone to use real-time, ultra-low latency video on existing IP video networks. Thanks to NDI, you can maximally use the capacities of software, devices, and networks to create visual content shareable with millions of viewers. With NDI, videos are accessible and easy to use by computer networks or mobile environments and maintain high-quality resolution. There is no need to buy new software and hardware. NDI is becoming especially popular in cloud production workflows where traditional SDI video interfaces are unavailable. NDI enables you to work with your current devices, applications, and networks. Live Transcoder uniquely allows you to shift from SDI to NDI and work in the cloud if needed.
Features for Better Work Efficiency
Drag and drop are now available in the configuration. JPEG 2000 encoding performance is 20 % higher, which means you can encode more video channels with your current hardware. DNS resolution of SRT addresses enables better and more practical workflows.
Updated Factory Reset – a little feature to make your life easier
If you need to reset your Live Transcoder into factory default settings, you will now keep the latest software version and will not return to an older one with the subsequent need for upgrading. I.e., if you have version 1.13 and reset your Live Transcoder into the factory default, Live Transcoder will stay on the latest 1.13 software version and will not go back to 1.10 with the necessity to update to version 1.13. Should you need to recover version 1.10, it is also possible.
New Features
Multichannel Synchronous Transport (+/- 1 frame precision)

SDI->SDI (BRIDGE LIVE->BRIDGE LIVE)
SDI->Cloud (BRIDGE LIVE->Comprimato Live Transcoder in a cloud)

NDI interlaced formats supported for input and output
HDR supported for end-to-end SDI workflows via MPEG-2 ancillary packet support, SMPTE 2038
Dual-Channel UltraHD workflows up to 30p
Improved JPEG 2000 performance for multichannel HFR workflows
Compatibility with AJA HELO Plus outputs
SDI I/O Firmware Upgrade functionality added to BRIDGE LIVE upgrade packages
Factory Reset now retains the most recent upgraded version of BRIDGE LIVE (vs. the original factory-installed version)
DNS resolution of hostname for SRT caller output
UI/UX enhancement to allow drag and drop pipelines.json into the left panel to upload
Fixed Bugs
Exposed details of H.264 NvEnc Rate control configuration in settings.ini (temporal AQ and spatial AQ)
Resolved support for NDI audio in low latency mode (.ini)
Fixed HLS output with AAC audio
Settled half video-rate shown in dashboard for level B SDI input
Solved output crash when using interlaced H.264
Safari will not show unsupported audio combination settings
How to get it
If you are already our customer, we will contact you soon. Should you need the upgrade immediately, have any questions, or need assistance, get in touch with us.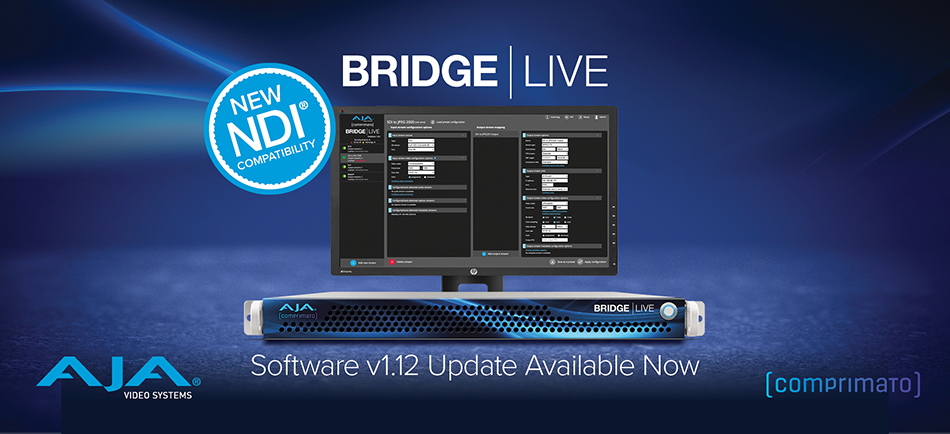 Comprimato just released a new update for our Live Transcoder and a new update for our and AJA's Bridge Live encoder. The new v1.12 software update is our most significant release ever. For the first time, it brings support for bi-directional NDI® input and output, HLS output, video preview, and a handful of UX improvements.
Integrating NDI® protocol is an important step towards IP-based production workflows. Live Transcoder and Bridge Live can now integrate with NDI® productions and connect them with the outside world. It is now possible to transcode NDI® streams to high-quality contribution feeds with JPEG2000 TR-01, H.264, and H.265 and transport them over SRT to remote partner locations. Combined with the new HLS packaging, NDI® and other IP or SDI feeds can be encoded into a complete resolution ladder for live streaming.
The v1.12 release includes:
Bi-directional NDI to SDI conversion: 

Take SDI input and convert it to NDI and vice versa

Bi-directional NDI to IP video conversion: 

Take IP video input (H.264, HEVC, JPEG2000) and transcode it to NDI and vice versa
Converting NDI streams for simulcast distribution with streaming services such as Facebook, Youtube, Twitch, or CDNs using RTMP/S or HLS protocols.

HLS output packaging: 

Encode SDI and IP video sources for live streaming with HLS

Video Preview:

Preview of SDI sources directly in UI

UX improvements
Factory Reset directly from the boot menu
Note: SDI inputs and outputs are available only with Bridge Live product.
Comprimato, in partnership with AJA Video Systems, is introducing BRIDGE LIVE, a software-based 1RU video encoding solution with support for UltraHD video through 12G-SDI and a wide range of streaming and contribution codecs (H.265, H.264, MPEG-2, and JPEG 2000 TR-01).

Combining AJA's production-proven I/O technology with Comprimato's powerful encoding/decoding/transcoding software, this new gateway solution provides high-quality, cost-effective video processing, with SDI encodes and decodes.
Supported is one channel of UltraHD up to 60p, or up to four channels of 1080 60p simultaneously, via four 12G-SDI connections that are also backward compatible with 6G, 3G, and 1.5G-SDI. A plug-and-play device featuring deep metadata support, BRIDGE LIVE suits a range of professional and enterprise-level video workflows. Video can be transported or streamed using a flexible array of containers and protocols, including SRT, RTMP/S, RTP, UDP, and MPEG-TS, and allows for creating an ABR ladder for each input channel.
BRIDGE LIVE delivers one of the most cost-effective and feature-rich enterprise-level offerings on the market for live video encoding, decoding, transport, and streaming.

Jiri Matela, CEO and Co-founder, Comprimato


Providing advanced flexibility, BRIDGE LIVE supports a host of protocols and configuration/monitoring options for remote workflows, including REST API and SNMP. Built-in 10GigE network ports provide plenty of bandwidth to move multiple streams of HD or UltraHD. With the reliability of SRT as standard, neither public internet nor unreliable networks will prove an issue. Comprehensive metadata coverage includes support for closed captioning and ad insertion markers, as well as the ability to embed subtitles. Bridge Live makes it easy to deliver powerful results, whether streaming to a platform like YouTube, Facebook, or Twitch.
Live production is booming as streaming becomes standard, more events pivot to a virtual format, and educational institutions implement distance learning. Developing a pipeline to support all the necessary requirements has historically proven costly and often inefficient, which is why we've developed BRIDGE LIVE in partnership with Comprimato.

Nick Rashby, President, AJA Video Systems, Inc.


Key BRIDGE LIVE features include:
● SDI encode or decode for one channel of UltraHD 60p or up to four channels of 1080 60p
● Broad support for video codecs, including H.264, H.265 (HEVC), and MPEG2, with an optional add-on for JPEG 2000 (VSF TR01) with 4:2:2, 10-bit/8-bit, and 4:2:0 10-bit/8-bit color component sampling
● Multiple stream outputs can be generated, or multiple destinations reached, from each channel of SDI input
● Comprehensive metadata support, including closed captioning/subtitles (EIA-608/708), line 21 captions, metadata pass-through, ad insertion markers (SCTE-35/SCTE-104), MPEG-2 ancillary packet (SMPTE 2038), and subtitles embedded within H.264 SEI messages
● Video processing tools, including cropping/padding, color adjustments, deinterlacing and 50% frame rate adjustments, logo insertion, and resizing
● 16-channels of embedded audio I/O per connection, with 16- and 24-bit quality, 48 kHz sample rate, synchronous
● High-density 1RU design with dual redundant power supplies (100-240 VAC 50/60 Hz), four full-size BNC connectors, and dual 10GbE onboard NICs for network connectivity
● Remote configuration, monitoring, and management via web-browser, REST API, and SNMP access and control
Would you like to know more about the BRIDGE LIVE?
Talk to us >
The Switch is a global business, providing connectivity and production facilities for broadcasters around the world. Its video distribution network, built on the Nimbra platform from Net Insight, offers more than 300 nodes in the US, Europe and Asia, with direct connectivity to more than 800 venues including all the major sports and entertainment venues as well as studio complexes.
The network is controlled from network operation centres in Los Angeles, New York and London. As well as providing connectivity, The Switch also offers production services, including its own studios and outside broadcast units. These services, including remote production, form an important source of growth for the company.
Layered onto this core network is MIMiC, its cloud-based production system. This seeks to address the key challenges facing sports broadcasters today:
maximising revenue and brand awareness from tier 1 sports, including social media content and additional programming around events
providing high production values for lower tier sports, enabling them to engage with audiences and enhance revenues
developing coverage for niche sports, to build awareness through excellent live and halo coverage, without the high costs of traditional capital-based production technology.
The Switch addresses the challenges by moving to cloud
The MIMiC service delivers against all these challenges. Moving from legacy hardware production solutions to cloud-hosted software means that the costs shift wholesale from high capital expenditure (leading to infrastructures which are fixed and inflexible until the costs are amortised) to software as a service provision, by which users pick precisely the elements they need for each individual project.
Meeting the high encoding requirements of remote production
The core Nimbra network uses the JPEG2000 codec in an MPEG transport stream, as VSF TR-01. To provide the performance MIMiC requires, The Switch needed a higher compression ratio and a stable transport stream to connect the private network to the cloud. The solution was to use H.264 over SRT, the secure reliable transport protocol, which is designed to minimise the effects of jitter and bandwidth changes to deliver low latency content over the public internet.
"To complete the offering, we needed a bi-directional bridge between the JPEG2000 and H.264," said Robert Szabo-Rowe, SVP product management at The Switch. "We need the bridge to offer high performance at low cost, and be capable of automated set-up and operation."
"As we looked around, most options involved decoding back to SDI and re-encoding," he added. "That doubles the amount of equipment and the number of processes, each of which further degrades the signal, as well as adding latency."
Software solution for direct TR-01 JPEG2000 to H.264 SRT encoding
Leading software encoding specialist Comprimato provided the solution. Its Live Transcoder uses uniquely powerful software, employing massive parallel processing in GPUs, and is built explicitly for streaming applications such as this. It is designed to provide multiple transcoding paths, to and from all the common codecs and containers, at resolutions up to 4k Ultra HD.
It also provides a degree of signal processing, including audio shuffling and colour adjustments, as well as resizing and de-interlacing. Although it can convert to and from SDI, in many applications it will be transcoding between two IP streams, so could easily be installed in a data centre where there is no SDI infrastructure available. All functionality is software controlled, making it ideal for automated workflows and unattended operations. End-to-end latency is 400ms.
"It was ideal for us, to provide the bi-directional bridge between our Nimbra network and SRT for MIMiC in the cloud," said Szabo-Rowe. "It gives us the flexibility we need, to transmit live to online, or to record back in the cloud. Most important, it is simple to use and to integrate into whatever workflows we need."
"We see early uses for lower tier sports, helping them distribute content which they generate themselves on low-cost production facilities," he continued. "Esports, which are natively produced in IP, also benefit from the simplicity of the MIMiC cloud production suite, and will also rely on the Comprimato bridge between our network and the cloud."
Comprimato Live transcoder offers to reduce amount of equipment needed for live video production in the cloud
The Comprimato Live transcoder is a key component in a comprehensive software as a solution platform for live production (including replay and graphics) and multi-platform delivery in the cloud. It provides transcoding in a single pass in one appliance, occupying just 1U of rack space and at a cost-effective price point. The compact form factor reduces infrastructure and operational complexity for high resilience, and it saves machine room space, power consumption and demand for cooling.
The Switch has installed its first Comprimato Live transcoder at its Motor Avenue, Los Angeles NOC. Others will be added as the demand for the service grows.
Would you like to know more about The Switch case?
Talk to us >
We are rolling out the 2.6 version of our GPU and CPU accelerated JPEG2000 Codec SDK. The new release brings up to 290% faster encoding and 200% faster decoding. It is now possible to decode FHD video at more than 1000 FPS or to encode 4K 60p video at 3.7x the real-time. Starting with this release, we officially support the NVIDIA Turing GPU architecture, including all Tesla, Quadro RTX, and GeForce RTX GPU boards.
Performance boost with NVIDIA Turing
With 2.6, we are officially launching support for Turing, the latest generation of NVIDIA GPUs. Compared to the previous Pascal generation, Turing brings significantly higher memory throughput and a significant boost in the raw TFLOPS performance. Comprimato JPEG2000 SDK leverages the new GPU architecture to enable almost 3x higher encoding density with single slot Quadro RTX4000, the successor to the popular Quadro P4000.
"Comprimato JPEG2000 SDK leverages the new NVIDIA Turing GPU architecture to enable 3x higher encoding throughput."
Below, you can see a comparison of the Quadro P4000 with the new Quadro RTX4000. Compared to the P4000, the new Comprimato JPEG2000 2.6 Codec encodes HD video streams almost 3x faster when running on the RTX4000. Decoding is about 2x faster. We see a similar speed-up for UHD 4K video streams.
Comparing two of the high-end Quadro GPUs P6000 and RTX6000, we are achieving significant performance improvements also. Mainly, the encoding got much faster. There is about 2x improvement for both FHD and UHD 4K video data. Although the decoding was always fast, there is a significant improvement as well. HD video is about 1.4x faster while UHD decoding got 1.2x faster.
Note that the performance was evaluated on a standard workstation sporting Intel Xeon E5 1620v3, a 4/8 core CPU with 32GB RAM. The test data were 1920×1080 and 3840×2160 videos with 4:2:2 sampling and 10bit colors. The JPEG2000 encoder was set to produce videos with bitrates at 200 Mbps for the FHD (1080p60) and 600 Mbps for UHD (2160p60) video streams.
You can check the performance of more GPUs and video profiles in our performance calculator.
Fixed bugs
Fixed decoder crash when reading invalid codestream (with specific invalid marker ordering).
Fixed incorrect GPU rate control in encoder with CUDA 10.
Fixed incorrect input size when postprocessing images with varying sizes on GPU.
Fixed repeated calls to GPU postprocessing size callback for the same image.
Fixed precision of V210 formatter in the decoder.
Fixed decoder parser for some damaged codestreams (SOT marker starting 3 bytes before codestream end).
Fixed CUDA page locked memory handling.
Contact us for more information or request the Comprimato SDK 2.6 trial.
Talk to us >