Visit us at booth 201 SVG Summit 2022 in New York on Dec 12 – 13, where we will showcase Frame rate conversion – our Live Transcoder's new feature.
Book your Meeting now to:
Learn about standards conversion typical use cases and the benefits of our solution – true live motion compensation, IP-based workflows, minimal latency, no need to buy any physical appliances, and the pay-as-you-go model.
Find out how our software can help you improve your current live video production workflows, both NDI and SDI.
Talk about cloud workflows and how Live Transcoder can function in them.
Check out flexible payment and hardware options.
Learn about all common codecs support with the advantage of using our own world's fastest JPEG 2000 codec SDK.
See the quality, environmental, and financial benefits of using GPUs
Discuss ABR Transcoding, Multichannel Synchronous Streaming, and many more features.
Before the show, you can read about Live Transcoder's latest features or try its user interface.
We look forward to seeing you at SVG Summit 2022
Do you have questions?
Check out our Live Transcoder's specifications or contact us.
Live Transcoder can now provide standards conversion for live streaming applications.
European vs. American standards
There are 2 standards traditionally called American and European. The American standard is used in the USA, Canada, and parts of Latin America. It uses sixty frames per second with 59.94Hz power, which many sources refer to as 60Hz power. The European one concerns the rest of the world, and the video frame rate is historically derived from the 50Hz electric power standard. The PAL standard defines 50 video frames in a second.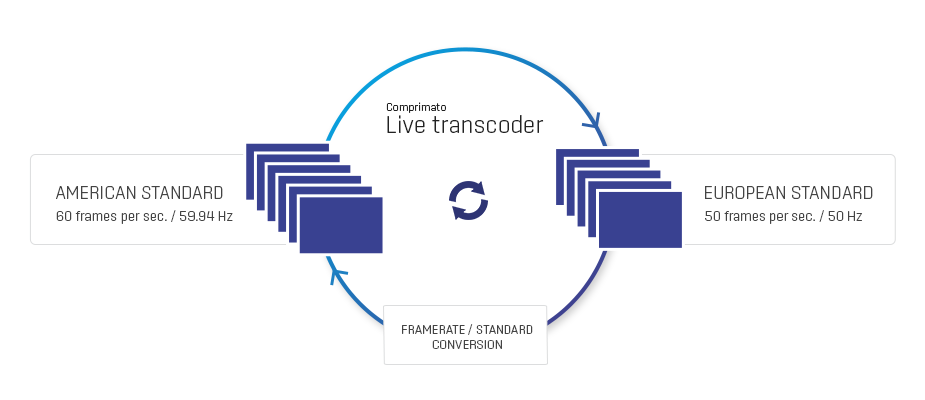 Flexible and versatile
Frame rate conversion for live video is always necessary when distributing content among countries using different standards – such as sports events, concerts, and similar occasions. Live transcoder can now ingest compressed live IP video, including H.264, JPEG2000 TR-01, or NDI feeds, and convert in real-time between the frame rate standards.
There is no need for separate hardware or software processes which would add latency and complicate your workflow. It delivers the highest levels of picture quality in multiple formats for live streaming environments and offers complete flexibility to deploy on-premise or in the cloud.
Exceptional output quality and minimal latency
Live transcoder now ensures the best possible image quality when de-interlacing and changing frame rates, allowing live video to be converted and streamed to viewers in appropriate local standards. It provides multiple transcoding paths, to and from all the standard codecs and containers, at resolutions up to 4k Ultra HD. It enables an exceptional quality standards conversion capability. It supports any combination of resolution, scan type, and frame rate, from established broadcast standards to formats generated by any equipment capable of capturing moving media. Live Transcoder's latency is 300 ms with standards conversion adding only 600 ms.
Live motion compensation
Live motion compensation does not duplicate existing frames and insert them among others. Motion compensation creates sequences of frames calculated from the original sequence based on the changes among individual frames. This ensures exceptionally smooth transitions among them and improves the quality of the viewers' experience compared to other live frame rate correction methods.
We are beyond happy to announce releasing JPEG2000 SDK with the new High Throughput JPEG2000 (HT-J2K). High-Throughput JPEG2000 is a new standard mode with major speedup and minor bitrate increase. It keeps all of the important previous JPEG 2000 features.
With all the codec features necessary for studio mastering, HT-J2K will become a dominant format for studio production workflows. The original JPEG2000 has already been adopted in many studio productions, and HT-J2K will dramatically speed up those processes, which is especially important in the world of 4K and 8K video. Compared to proprietary formats such as ProRes and DNxHD built around the same DCT-based methods as the old JPEG image compression, HT-J2K is based on a much more advanced discrete wavelet transform (DWT). And it is royalty-free and open standard and available to anybody.
HT-J2K is faster, has features such as resolution scalability, can quickly decode 2K low-res out of 8K master, allows for mathematically lossless compression, and has a better compression efficiency.
Comprimato JPEG 2000 SDK 2.8 brings HT-J2K for CPU coding while keeping all of the important functionalities:
– encoding and decoding
– precise rate control and mathematically lossless coding
– interoperability with 3rd party JPEG 2000 codecs
– single brief C89 API for all of the functionality
– legacy coding mode still fully supported in the same build
– more HT JPEG 2000 speedup and GPU coding support in following releases
Why choose Comprimato JPEG2000
It is the world's fastest software JPEG2000 implementation. Purchasing the latest version you get a complete package of all our previous versions and updates and bugs fixes with GPU and CPU support. Both a decoder and an encoder are included. We officially support NVIDIA graphic cards.
We provide foundations for the latest broadcast, VFX and digital cinema applications, fulfill your future archival needs, and update remote sensing workflows.
To get Comprimato JPEG2000 SDK with the new HT-J2K, get in touch with us using the form or at sales@comprimato.com
We will be at IBC in Amsterdam from September 9 – 12. Meet us there. You can get a free Exhibition visitor pass until August 20.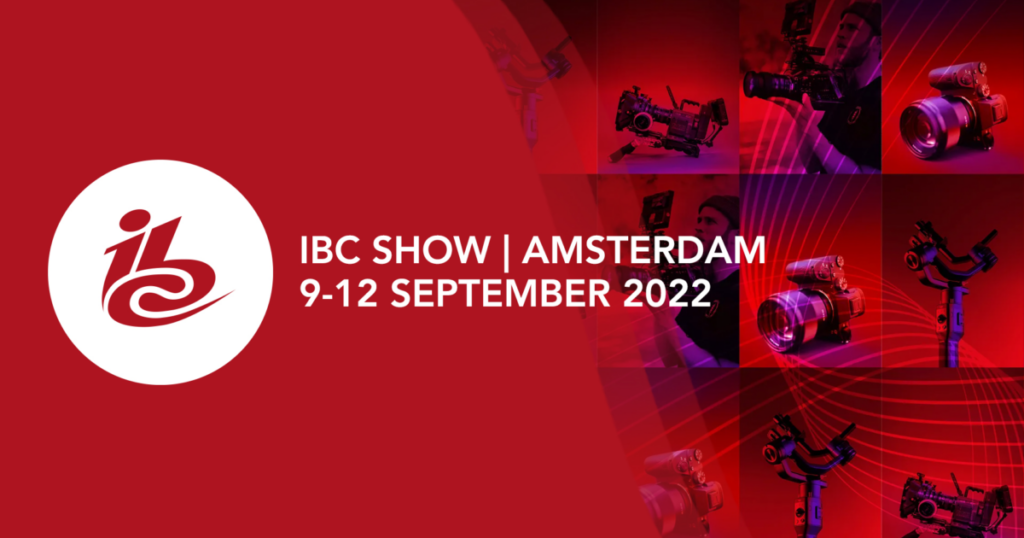 See our video encoding and transport technology
Check out Bridge Live, the most versatile video encoding and transport device on the market. It is capable of multichannel synchronous transport, low latency, and many more great features. You can see Bridge Live at the AJA booth at stand 7.C19. Talk to us about your video production needs, and we look forward to telling you more about our newest use cases.
Do you want to meet and discuss how we can help you? Contact us through the contact form or by reaching out to sales@comprimato.com to schedule a meeting at IBC.
We are happy to announce that we have just released the new version of Bridge Live and Live Transcoder 1.13.
Multichannel Synchronous Transport Streaming
The most distinctive feature brought by version 1.13 is stream synchronization. It enables live stream directors or producers to work with multiple feeds that are precisely synchronized together and in real-time, so the workflow is flawless. We are incredibly proud of this aspect. It enables you to work professionally, yet it is hard to find speaking of similar products. However, it is almost a necessity in quality video production.
NDI Ready
Live Transcoder is now fully NDI-ready. Network Device Interface (NDI) is a high-performance standard that allows anyone to use real-time, ultra-low latency video on existing IP video networks. Thanks to NDI, you can maximally use the capacities of software, devices, and networks to create visual content shareable with millions of viewers. With NDI, videos are accessible and easy to use by computer networks or mobile environments and maintain high-quality resolution. There is no need to buy new software and hardware. NDI is becoming especially popular in cloud production workflows where traditional SDI video interfaces are unavailable. NDI enables you to work with your current devices, applications, and networks. Live Transcoder uniquely allows you to shift from SDI to NDI and work in the cloud if needed.
Features for Better Work Efficiency
Drag and drop are now available in the configuration. JPEG 2000 encoding performance is 20 % higher, which means you can encode more video channels with your current hardware. DNS resolution of SRT addresses enables better and more practical workflows.
Updated Factory Reset – a little feature to make your life easier
If you need to reset your Live Transcoder into factory default settings, you will now keep the latest software version and will not return to an older one with the subsequent need for upgrading. I.e., if you have version 1.13 and reset your Live Transcoder into the factory default, Live Transcoder will stay on the latest 1.13 software version and will not go back to 1.10 with the necessity to update to version 1.13. Should you need to recover version 1.10, it is also possible.
New Features
Multichannel Synchronous Transport (+/- 1 frame precision)

SDI->SDI (BRIDGE LIVE->BRIDGE LIVE)
SDI->Cloud (BRIDGE LIVE->Comprimato Live Transcoder in a cloud)

NDI interlaced formats supported for input and output
HDR supported for end-to-end SDI workflows via MPEG-2 ancillary packet support, SMPTE 2038
Dual-Channel UltraHD workflows up to 30p
Improved JPEG 2000 performance for multichannel HFR workflows
Compatibility with AJA HELO Plus outputs
SDI I/O Firmware Upgrade functionality added to BRIDGE LIVE upgrade packages
Factory Reset now retains the most recent upgraded version of BRIDGE LIVE (vs. the original factory-installed version)
DNS resolution of hostname for SRT caller output
UI/UX enhancement to allow drag and drop pipelines.json into the left panel to upload
Fixed Bugs
Exposed details of H.264 NvEnc Rate control configuration in settings.ini (temporal AQ and spatial AQ)
Resolved support for NDI audio in low latency mode (.ini)
Fixed HLS output with AAC audio
Settled half video-rate shown in dashboard for level B SDI input
Solved output crash when using interlaced H.264
Safari will not show unsupported audio combination settings
How to get it
If you are already our customer, we will contact you soon. Should you need the upgrade immediately, have any questions, or need assistance, get in touch with us.